History of van Asch
Ngā Tāhuhu Kōrero me Rotarota o Van Asch
History of van Asch
1868: Dorcas Mitchell uses sign language to teach the Bradley family's Deaf children in Charteris Bay, Banks Peninsula.
1878: Dorcas Mitchell applies for the position of Principal at the Sumner Institution for the Deaf and Dumb. She is unsuccessful.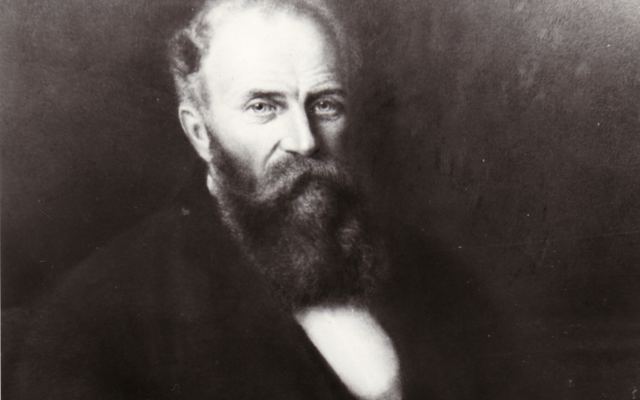 Gerrit van Asch is appointed Director in 1880
1880: In Milan, Italy, the Congress of Educators of the Deaf recommends the oral method as the most effective way of teaching Deaf children. Sumner Institution for the Deaf and Dumb opens as the first State school in New Zealand. Gerrit van Asch is appointed Director. Oral teaching is promoted and sign language is strictly forbidden.
1884: Sumner Institution for the Deaf and Dumb changes its name to Sumner Institution for Deaf-Mutes.
1890: There are now 42 boarders and three teachers. The classrooms and boy boarders move to a larger house. Vocational training in farming and domestic work is given as well as classroom lessons. Teachers are expected to live in.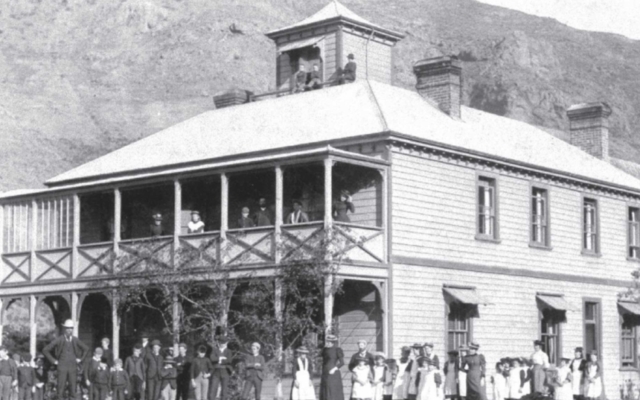 1901: First-day pupil - Hilda Illingworth enrols.
1904: The building of Main Building completes with specially planned classrooms and dormitory accommodation.
1907: Edward Stevens becomes Principal of Sumner School for the Deaf.
1908: Experimental preschool class starts.
1910: Teachers start visiting parents. There are now about 120 students.
1912: As the roll increases, the Main Building is expanded.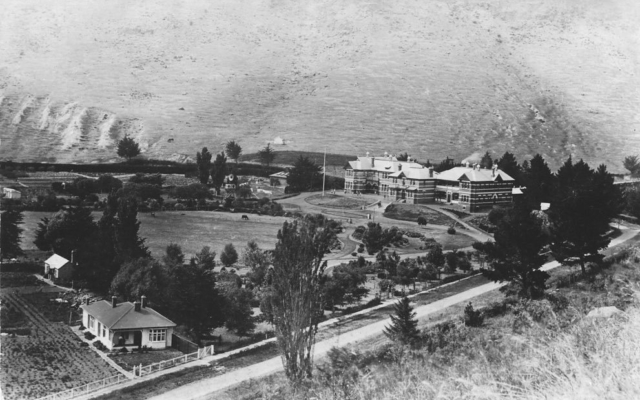 Aerial view of grounds in 1918
1921: Myers Park School for the Deaf opens as a satellite school under administration by Sumner School for the Deaf.
1922: James Crawford becomes Principal of Sumner School for the Deaf.
1929: Thomas Chambers becomes Principal of Sumner School for the Deaf.
1936: Deaf adult workers are now employed on the school farm and in domestic work, but senior students are still expected to help.
1936: A special listening room is fitted with a group of hearing aid.
1938: A new Boy's House is built and the older one is demolished.
1939: World War Two starts. Sumner School for the Deaf is used for military purposes. North Island children go to a school at Titirangi in 1940.

1941: Special teacher training commences at Auckland Teachers' College, instead of on the job at Christchurch.
1944: Deaf education is still administered from Christchurch. A rubella epidemic causes the school rolls to increase to 144 students.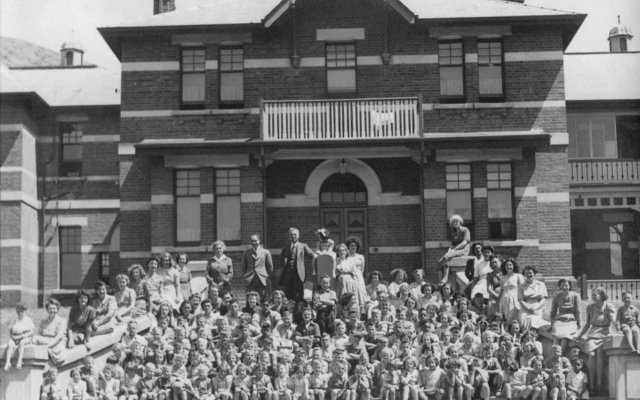 Children of the Sumner School for the Deaf in 1945
1946: Deaf education in New Zealand is divided into two separate intake regions due to another rubella epidemic. The School for Deaf in Auckland is now permanent.
1948: Helen Keller and Polly Thompson visited the Sumner School for the Deaf on the 8th of August 1948. Helen was given flowers by one of the oldest pupils - Noeline Tremaine, and two of the youngest pupils – Lillian Hayden and Brenton Austen.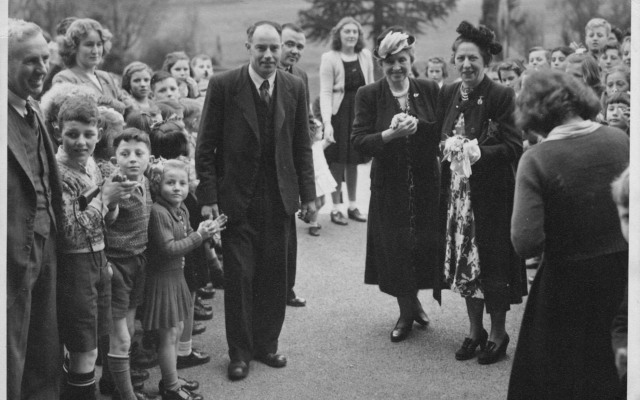 Helen Keller and Polly Thompson visited the Sumner School for the Deaf
1949: Teachers of the Deaf are trained at Christchurch Teachers College as well as Auckland Teachers College.
1953: All students get hearing aids.
1954: Four group hearing aids are installed at the school.
1955: The 75th Jubilee is celebrated.
1957: Training commences for Advisers on Deaf Children.
1958: Boys' House is destroyed by fire on the 28th of September. Students are billeted and then accommodated in a hostel in Lyttelton for five years. Student dormitory accommodation is reviewed.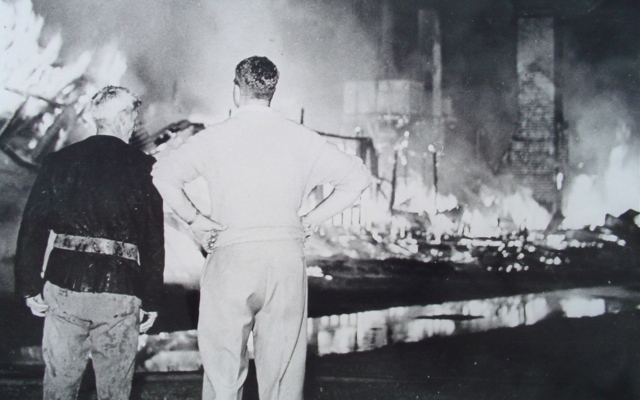 1959: The first local Deaf unit classes are established at Te Aro in Wellington, followed by Linwood North in Christchurch in 1960.
1962: First residential home van Asch House opens with 12 students under the care of residential social workers, and the phasing out of the dormitory accommodation begins.
1963: First support person employed to assist in three classrooms with students from a 1960 rubella epidemic.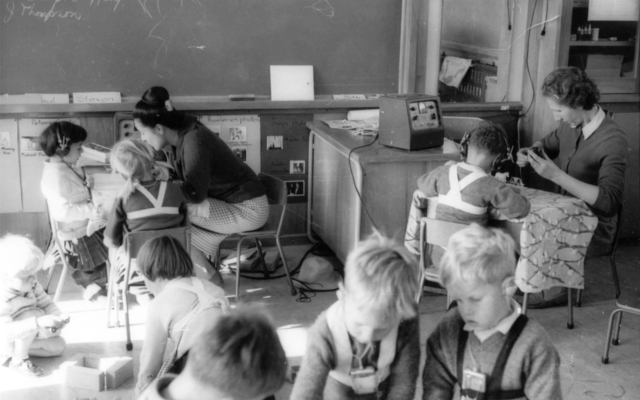 1964: Work experience starts for senior students.
1967: Itinerant teacher support is provided for children in mainstream Hearing schools. Parents are encouraged to move close to a support school so that their children may become day pupils.
1968: The National Film Unit produces "A Deaf Child in the Family" with the assistance of Sumner School for the Deaf.
1969: Deaf and hearing-impaired children from another rubella epidemic begin to enrol.
1974: Sefton Bartlett becomes Principal of Sumner School for the Deaf. Each child receives two hearing aids. A Resource Centre and Library is set up for use by the whole region.
1975: A High School Department is established at the school. New hearing aids are issued to all high school students.
1976: Senior students enrolled in part-time courses at the Christchurch Technical Institute (now Ara). A teacher simplifies the 'Road Code' and driving instruction becomes part of the curriculum.
1977: Students get ear-level hearing aids.
1979: The philosophy of Total Communication in the education of Deaf and hearing impaired is adopted and becomes Department of Education policy. Tuition is tailored to the individual needs of each Deaf student. The first integrated class starts with hearing students from Sumner Primary School. All boarders move into residential houses and Main Building is closed due to earthquake risk.
1980: Sumner School for the Deaf changes its name to van Asch College. The Centenary is celebrated. Specialist resource teachers in speech and Total Communications are appointed to address local and regional needs.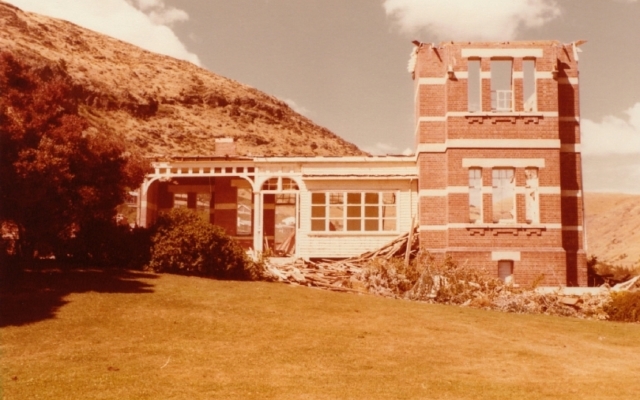 Main building demolished 1981
1981: Main Building is demolished.
1982: Local parent support groups are established.
1983: Regional residential pre-school courses for preschool Deaf and their families are started. Resource support is provided for other special needs students; the physically disabled, intellectually impaired, and blind.
1984: First pre-school programmes start. The Resource Centre and Library are extended to provide greater support for regional needs. Senior boarding students move from residential houses to flats on campus.
1987: An Audiologist joins van Asch College staff. There is a Deaf American Field Scholar exchange between New Zealand and America and a Rotary twin exchange with Brisbane.
1989: The first Board of Trustees is elected with Alan Bensley as the first Chairperson.
1991: The first Board of Trustees completes its three-year term. Individual and group music and occupational therapy are added to the programme for some students. Ongoing resource development includes a revised Australasian Signed English Dictionary and a subtitled video library. An international company films scenes for "The Sound of Silence", a film about Alexander Graham Bell, using van Asch College students and staff as extras. The Deputy Principal takes leave to study at Gallaudet University in America.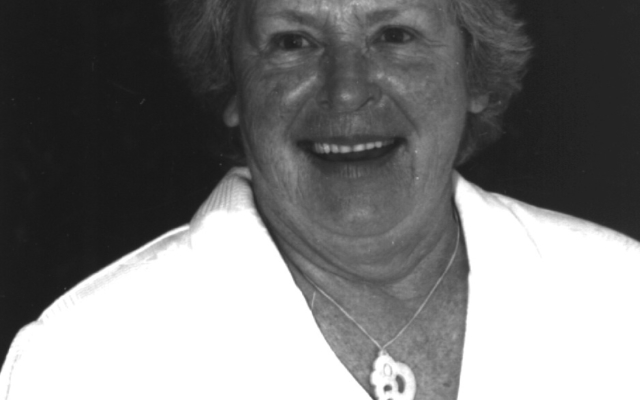 Hilary Mc Cormack first Deaf chairperson 1992
1992: The first Deaf chairperson, Hilary McCormack, is elected to the van Asch College Board of Trustees. International Deaf educators, Morag Clark ('Auditory Verbal Programmes') and Doreen Woodford ('Students with Multiply Disabilities') visit the school. Funded by the NZ Federation of Parents for Deaf Children, van Asch College hosts a camp for Deaf and hearing-impaired students from throughout New Zealand. A 17-week training programme is provided for two educators from Papua New Guinea, funded by the Save the Children Fund.
1993: Ian Cocks becomes Principal of van Asch College. A Deaf American Field Scholar attends van Asch College for one year. Audiologists support the training of Advisers of Deaf children. A Maori class is established. A new system of 'Family Homes' is established to provide residential facilities for Deaf students after celebrating a decade of preschool residential courses.
1994: NZSL policy introduced and professional interpreters are employed by van Asch College.
1995: van Asch College changes its name to van Asch Deaf Education Centre.
1997: First bilingual class is established at van Asch Deaf Education Centre The first Deaf teacher, Ann Croy, is appointed to VADEC.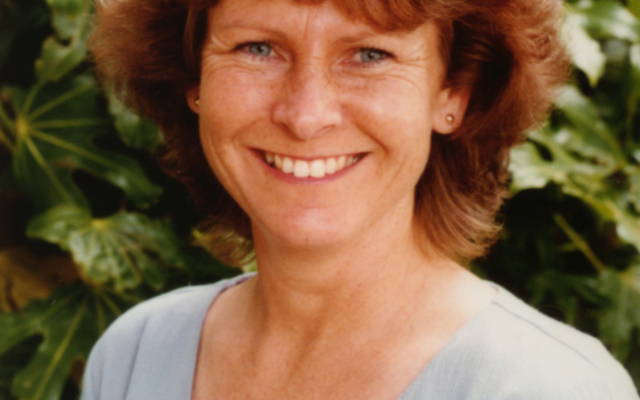 First Deaf teacher, Ann Croy in 1997
1998: Margaret Trotter becomes the first female Principal of van Asch Deaf Education Centre.
1999: 'Anniversary Day' celebrated on 10th March. The museum is officially opened. A new Information technology building is completed. Ian cocks returns as Principal in November.
2000: Itinerant teachers of the Deaf in the lower half of North Island and the South Island are now employed by van Asch Deaf Education Centre.
2001: Deaf resource staff are appointed to positions in Palmerston North, Napier, Wellington, and Dunedin.
2003: Michael Parsons opens the Southern Cochlear Implant clinic at VADEC.
2005: 125th Anniversary Jubilee
2006: First Archivist position has been appointed for the Museum.
2007: Barry Newcombe appointed as Principal.
2009: A satellite unit established at Hagley Community College
2010: Bernadette Mulcahy-Bouwman appointed as Principal.
2011: SCIP relocated to St George Hospital in Christchurch.
2012: KDEC and VADEC BOTs combined into one Board of Trustees
2013: A satellite unit established at Wharenui High School
2015: A satellite unit established at Hillmorton High School
2020: van Asch Deaf Education Centre celebrates 140 years of Deaf Education Centre combines with Kelston Deaf Education Centre to become Ko Taku Reo.
James Le Marquand becomes Principal.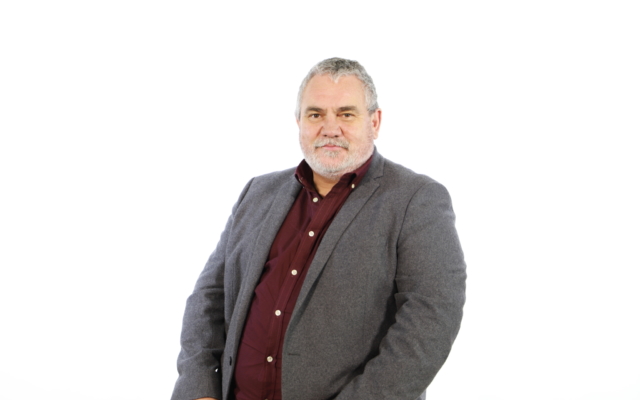 James Le Marquand Executive Principal 2020